Thanks to eveyone who took the time to come to the update meeting on Wednesday night, and also for  going on the walk with Bill on Thursday Evening.  Special thanks to  Councilor Roger Steel (Clifton North Ward – Nottingham City Council) and Jane Hunt (Conservative Party Parliamentary Candidate for the South Nottingham Constituency) for their time to get over to Barton to see the scale of the proposal first hand.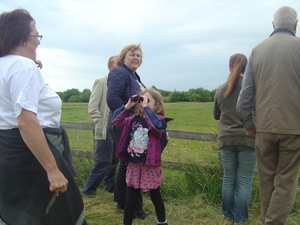 Lauren thinks that Diane has shrunk during the walk!
Please do fill in a response form if you haven't done one yet, and get it in to the council in the next few days.  If you prefer to save a stamp, you can drop the completed forms in to any of the Barton Parish Councilors (Bill Harrison, Julian Coles, Allan Kerr, Sue Davies or Lynda Dransfield), or there are drop-off points in the Gotham Spar Shop and Barton Green Corner Shop.